Poppers Picture
Posted on Rush-Poppers.org Forum
Topic created by Jake
on Sun, 26 Feb 2006 at 20:06
---
Jake, Sun, 26 Feb 2006 at 20:06
Photo from Blackpool, England. Fags here refer to cigarettes.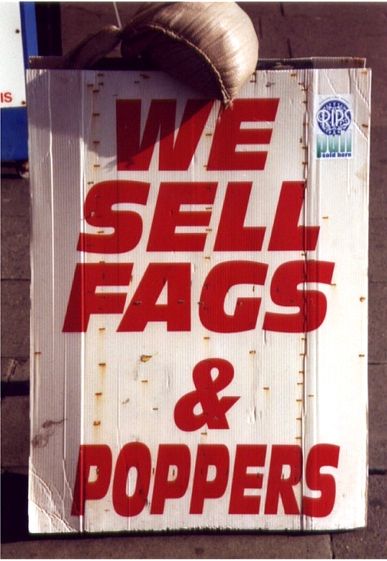 Martha, Mon, 27 Feb 2006 at 15:53
your hometown, Jake? very classy
---

Gay boys go to Power Poppers >>
You'll like that one... Genuine Rush poppers
(PWD) at a great price. I love them!
Straight guys and girls, be sure
to give Aroma of Love a try >>
Real Rush aroma and other popper brands,
plus tons of other cool stuff, too. Yummy!